Meet the Congregation
(Use the slider arrows or buttons  below the video to see more videos)
Angel Tree Project - Community Outreach Committee
Angel Tree Project
For a second year, the Community Outreach Committee partnered with the Angel Tree Ministry, a program of Prison Christian Fellowship. Through the Angel Tree, we were able to embrace children who have an imprisoned parent and provided them with gifts, given on behalf of their imprisoned parent. Everyone benefited from participating in Angel Tree: the children experienced the joy of knowing their parents haven't forgotten them, the prisoner experienced the dignity of the child having something personal from him or her, and those who provided gifts experienced the joy and spiritual growth of putting our faith into action.
Thanksgiving Project - Community Outreach Committee
 Thanksgiving Project
The Community Outreach Committee conducted another successful Thanksgiving Baskets projects. They provided baskets containing turkeys, potatoes, yams, canned vegetables, fruit, juices, supplies to bake pies, etc. Due to the generosity of our parishioners, the Committee was able to provide 100 families with  a meal which enabled them  to experience the usual celebration and festivities of the Thanksgiving holiday!
St Nicholas Festival - December 5th 2015
 St Nicholas Festival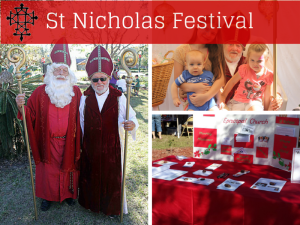 It's time for the St Nicholas Festival at St Matthias! As a part of the annual Christmas celebrations in Clermont, we will once again host our St Nicholas Festival on the church grounds. The festival will feature information about St Nicholas and light refreshments will be availalbe for purchase. Members of the St Matthias family will be on hand to talk with you about our historic church and opportunities for worship. You can catch the parade from our grounds or walk into Downtown Clermont which is only a stone's throw away. See you at the festival!  In the meantime, you can check out photos from previous festivals.
Preparing for Sunday Feature Added
 Preparing for Sunday
We've added a new feature to help you prepare for Sunday worship!       With our latest feature, you can enhance your worship experience by seeing and reading the lessons in advance! We provide FREE access to NRSV Lectionary readings, scripture backgrounds, reflection and prayer starters right here. Access the readings and give yourself more time for prayer and reflection. No more searching through different scripture passages to track down readings. Simply click on the "Sunday Lessons" link above and you will be able to view and print the current Sunday's readings as well as last Sunday's and next Sunday's. Readings automatically update each Monday morning.